Carbon Copy
Carbon Theory x JXNZAY

By Ellie Hummerston
June 09, 2022 • 2 min read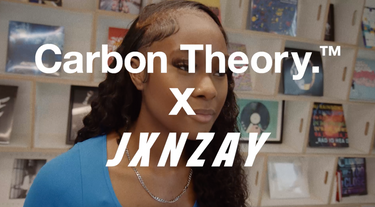 Um, so we have a new obsession. 
Her name is JXNZAY (pronounced [jen-zay]), and she's the storm that's about to blow up the grime world. She's a multi-talented, rapper, singer and songwriter, and you can expect to see her name in the charts in the coming years. She's North London through and through, and tried it all before finding herself in music. 
JXNZAY is an up and coming young talent, which comes with its own load of pressure. Add that to the fact that she's still in college, and you're talking about a LOT of stress. 
Carbon Theory and JXNZAY met at her sixth form college to talk about self-confidence, stress breakouts and low maintenance skincare.
What does confidence mean to you?
"For me, confidence means just knowing yourself, being yourself and just knowing you're that, you're that person."
When do you feel the most confident?
"When I'm making music, honestly, I love it, it's like my home. It's like therapy for me. It's the time when I'm most happy and most myself, when I'm making music."
How did you figure out who you are?
"I tried to be a hairdresser, I tried to be a nail tech, I tried to be a dancer, I tried to be an actress, and you know what, this just isn't me."
How do you stay confident on stage?
"In general I'm a confident person, but then I go on stage and it's just like a different side of me comes out."
What's your skincare routine like?
In the morning I literally just wash my face, then I get my toner, then I use moisturiser - my skincare routine is really simple. That's my element of self care, I literally don't have time for myself, I'm either working or making music, so when I have the time in the morning, when I'm taking care of myself, that's when I feel most relaxed. 
When I have a show I always put on makeup, so when I have the time to just wind down and wash my face, I like to light incense and really relax, because I'm just always busy.
How do you deal with breakouts?
"When I was younger my skin was great, literally no spots. But when I became a teenager I started to get spots. I find that definitely when I'm stressed out my skin breaks out a bit, and my confidence just goes down. I had to kinda say to myself, I'm more than what's just on my face - it's just spots."