Carbon Copy
Festival Survival Guide

By Ellie Hummerston
August 24, 2022 • 1 min read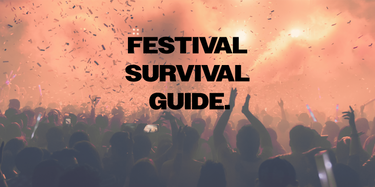 Hands up who still has festival plans? 
👋👋👋
Glastonbury may now just be a muddy field, but there's still plenty of festivals ahead this summer. So whether you're heading to Reading and Leeds we've got you covered with our festival survival guide.
HYDRATION
If you learnt anything from July's heatwave, we hope it was the importance of hydration. That goes for inside and out! So while we'd encourage you to at least drink some water alongside overpriced festival beer, you should also ensure you pack your moisturiser. 
PROTECTION
WEAR 👏 YOUR 👏 SPF
Sure you look cute with the glitter right now, but by day two you'll probably be lightly singed and facing sun damage. Sun damage leads to increased skin ageing, risk of skin cancer and all sorts of bad stuff. Ours is super lightweight - thick white sunblock is not the vibe. 
CLEANSING
Look, we know you're not going to do a proper double cleanse at a festival, even though you know you really should. Anyone who has attempted to do so hunched over a portaloo sink knows it's just not worth it. At least do the bare minimum for your skin, and pack our Bi-Phase Cleansing Water and plenty of reusable face pads - just chuck them in the wash when you get home. Follow up with our Cleansing Pads for a little extra cleansing and exfoliation on the go. 
HAIRCARE
It's inevitable that you're going to have greasy locks by the end of a festival, but hold off the oil for as long as you can by remembering to pack your dry shampoo! Our top tip is to apply it to clean hair when you go, so it starts to absorb excess oil as soon as it appears.
Taking your Carbon Theory faves to a festival? Tag us on Instagram for a shout out!