Carbon Copy
Grassroots to Glory

By Ellie Hummerston
August 01, 2022 • 1 min read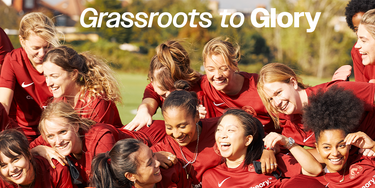 The Women's Euros have come to an end in a world-recording breaking glory for the Lionesses, and it's been a hell of a summer. The Lionesses kept us on the edge of our seats, and football has officially come home for the first time in 56 years. 
Here at Carbon Theory, the importance of women in football is not new to us, and we've been partners with East London grassroots team Victoria Park Vixens since 2020. We've now joined forces with grassroots women's football team Aggregate Football Club as well, to learn more about what the Euros taking place in the UK means for the women already playing the beautiful game, and their hopes for the future of women's football:
"This is the first time I've seen a buzz from men and women who wouldn't watch the women's games, there's a real hype about it"
"I think the Euros being in this country is great for the sport and its growth. It's been a great summer"
"I think the Lionesses being in the final is so exciting for the country and it's going to create so much buzz around the sport and it's really exciting to see where it's going to go from here with people getting more involved and watching it, with it being a norm for women's sport to be on the telly"
"It's so exciting that the girls are in the final, they've played really well throughout and I really think they can bring it home"
"I think people are really taking women's sport seriously, we're starting to see female athletes in advertising, not just men"
This is only just the beginning for women's football, with only 44% of UK schools offering the sport for young girls and we're excited to see the future for the sport and proud to be able to support it.