Carbon Copy
Here's how to create a skincare routine (that you'll *actually* stick to)

By Ellie Hummerston
February 01, 2022 • 1 min read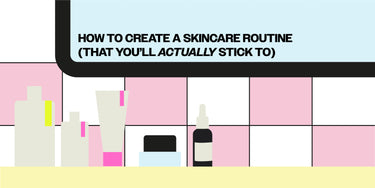 Cleanse, tone and moisturise.
We've all been told it's the fundamentals of skincare. The three basic things we need to do every single night. So, where do serums, spot creams and everything else we use come into our routine? And, how do you create a skincare routine that you can repeat night after night? 
The basics 
OK, let's start with the order that you should be using products. 
If in doubt, you should be using your lightest and thinnest products first and thickest at the end. This means that all of your products have the best chance of being in direct contact with your skin.
And, don't think you need a 12-step-skincare routine to see a difference. As long as you're doing the basics (cleansing, toning, treating and moisturising), then your skin will be happy and healthy. 
It's more important to be strategic, picking products that will make the biggest difference to your skin and investing in multi-taskers that save you time. So, what should you be using for your skin type? 
Acne-prone skin routine
Want to reduce redness and shrink spots? Then this is routine for you. 
Charcoal Cleansing Bar + Facial Tonic + Spot Paste + Facial Moisturiser = Spot-free, even complexion
Charcoal Cleansing Bar: prevents breakouts and keeps skin clear, balanced and hydrated.
Breakout Control Facial Tonic: reduces pores and deep cleans to minimise shine and keep your complexion clear.
Breakout Control Facial Moisturiser: provides protection from breakouts while keeping the skin nourished and hydrated.
Spot Paste: an intensive, direct on the spot treatment that eliminates spots and reduces redness.
Dry, dull and unhappy skin routine
Fancy an instant glow up? We've got you.
Bi-Phase Cleansing Water + Overnight Detox Serum + Mineral Mud Mask
Bi-Phase Cleansing Water: Packed with soothing Vitamin E oil to melt make-up and hemp water to hydrate. As well as Symrelief - an anti-oxidant with soothing qualities to ensure that even the most sensitive skin is left calm and refreshed.
Overnight Detox Serum: An intensive hydrating treatment that instantly brightens and tightens unhappy skin.
Mineral Mud Mask: Dead sea mineral mud, which is packed with magnesium, naturally exfoliates, soothes and repairs the skin