Carbon Copy
Lou Northcote: skincare routine

By Ellie Hummerston
October 01, 2021 • 4 min read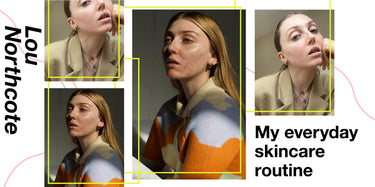 September has been a month of new chapters for a lot of you reading this I'm sure – going back to school or university, starting university, going back into the office, getting back out into the world and so much more! These new situations, stresses, pollution, food, alcohol, less sleep can have a huge impact on your skin; in addition to the fact, you might have less time to focus on your skincare routine. Fear not, I have a few tips on a skincare routine that doesn't take loads of steps, can be done even after a night out having a few too many glasses of wine, is great for sensitive skin and can help with breakouts.
My AM routine:
I don't cleanse my face in the morning as it may strip your natural skin barrier. While we sleep our skin actually works on building its own natural barrier against the world, a layer of helpful oil that keeps skin soft. So why strip that away... In addition, I am acne-prone with somewhat dry skin so found it would dry my skin more (that was probably me stripping my skin). 
I go in with the Facial Moisturiser first. This is a gorgeous moisturiser and the reason I love it so much is it is great for acne-prone/acne skin and sensitive skin! The cranberry extract soothes and moisturises inflamed or irritated skin, shea butter hydrates without clogging pores and also helps the skin barrier (see skin barrier again). The organic tea tree oil reduces inflammation while acting as a natural antiseptic and Vitamin E revitalises and repairs the skin while also providing a barrier against environmental pollution. As we are spending more time back out in the world it is definitely important to protect our skin against pollution, we have spent so long inside we don't know how our skin is going to react. 
For anyone with acne reading this and getting worried about the words oil or even moisturiser, it is ok! I actually didn't used to put moisturiser on when I was younger and first got acne as I was so scared it would make it worse, oh my was I wrong, the not using moisturiser probably made my skin worse as it meant it was dry so probably overcompensated with creating more natural oil which meant more sebum which meant more spots! So please use moisturiser daily even if you have acne!!! Oil is also ok for acne, it doesn't mean it will create more oil and more spots, it will help to hydrate the skin.
The second and last step of my morning routine is the Day-Lite Sunscreen SPF 50+. Even if it is raining or even snowing outside guys WEAR SPF. SPF should 100% be worn every day, once you have added it into your routine it is easy to just have it as a step. This SPF has a high UVA/UVB protection, it is ultra-lightweight, hydrating and dermatologically tested. It is also not greasy, what us acne sufferers look for in a sunscreen. I apply a generous amount on my face, ears, neck and also hands. 
Then I am ready to go, two simple easy steps to help hydrate and protect your skin for the day ahead. See that isn't a lengthy routine that takes ages (: 
My PM routine:
The OG.. the Facial Cleansing Bar. I remember when I first bought this product and genuinely after the first use I was in love. I have recommended this product to a lot of family and friends so I am excited to also recommend it to you guys! The activated charcoal gently draws out bacteria, toxins and oil. Then the organic tea tree oil reduces inflammation and acts as a natural antiseptic. In addition to this, because of the shea butter, the skin is hydrated. I have used a lot of facial bars in my time and most dry the face out a lot, I think this is the main reason I fell in love with this bar, after the first use my skin felt so clean but not tight (you know the feeling of tight skin after using something to cleanse). 
I then ALWAYS yes ALWAYS double cleanse (especially as I have applied SPF). For my second cleanse I use the Facial Cleansing Wash it has similar ingredients to the bar so it is great for acne-prone skin especially. 
Next, exfoliate with the Cleansing Pads. With this product listen to your own skin, as skin is so personal. I personally can use these everyday, whereas some people's skin can only tolerate a few times or once a week. If you have active acne you can use these also, acid exfoliants can really help! 
Lastly, I go in with the Facial Moisturiser to help bring the hydration back to my skin after exfoliating. 
Once a week (usually on the weekend) I also use the Breakout Control Mineral Mud Mask. This is great as it has all the same amazing ingredients as the other products, however, it also has dead sea mineral mud, which is packed with magnesium, a natural exfoliant that soothes and repairs skin! Doing a facemask is also such a lovely little you moment/pamper session so definitely try to make some time for this as it is you time you deserve.
P.S Some other ways I use the Facial Cleansing Bar: it is great for washing makeup brushes, face masks and also if you use reusable cloth face pads!