Carbon Copy
Meet Our New Product

By Ellie Hummerston
May 04, 2022 • 2 min read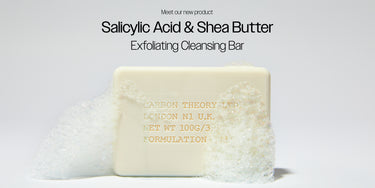 Introducing the Salicylic Acid & Shea Butter Exfoliating Cleansing Bar.
*pause for applause*
It's new, it's super-effective against spots and it's about to become your new fave.
The deets:
Launched Spring 2022

Contains 1.8% Salicylic Acid, AKA beta hydroxy acid, is a super gentle exfoliant

Kind to skin and soothing, it's perfect for those of us that struggle with spots

Salicylic Acid reduces sebum production which can cause acne

Shea Butter keeps skin nourished and hydrated without clogging the pores

Shea Butter is anti-inflammatory, reducing redness and calming down spots

Vegan and cruelty free (obv)

Designed with your skin and your bank balance in mind 
Going deeper
One of the main causes of breakouts is pores getting all clogged up with dead skin and excess oil (sebum), which then leads to the growth of bacteria. This then shows up as blackheads, whiteheads and spots.
Salicylic Acid is about to be your skin's new best friend. Salicylic Acid, which is a BHA, deeply penetrates your skin, gently breaking down the bonds between skin cells. This increases cell production, meaning your skin renews itself faster. It also dissolves dead skin cells and breaks down excess oil, so all the gunk that causes spots gets washed away.
Welcome to Hydration Station
We love Shea Butter, and it features in several of our products, including the OG Carbon Theory Cleansing Bar. It makes a return in the Salicylic Acid & Shea Butter Exfoliating Cleansing Bar, where it balances out the exfoliating properties of the Salicylic Acid. Shea Butter plumps and hydrates your skin, locking in moisture and nourishment.
Down with redness
Even better, Salicylic Acid is an anti-inflammatory. This means that as well as getting rid of the stuff that causes spots, it also reduces swelling and redness, so the signs of a breakout go away faster. 
Gently does it
Sensitive skin? Don't worry about it. Unlike other acids like glycolic, which many people find irritates their skin, you're much more likely to be able to use Salicylic Acid. 
Small pores please
Salicylic Acid is an astringent, meaning it can tighten your skin slightly, reducing the appearance of pores. Worried about your skin feeling dry afterwards? We've got you covered. We paired Salicylic Acid with Shea Butter to make our new Cleansing Bar even gentler, keeping your skin hydrated and nourished.