Carbon Copy
Meet our Salicylic Acid Exfoliating Gel Cleanser

By Ellie Hummerston
July 22, 2022 • 1 min read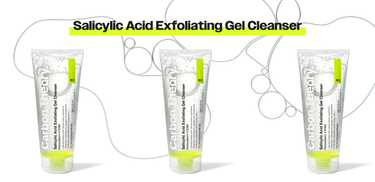 You love the liquid version of the OG five-star Charcoal Cleansing Bar, so we thought we really ought to make a second version of the new member of the Carbon Theory family. Meet the Salicylic Acid Exfoliating Gel Cleanser - all the salicylic goodness of our Exfoliating Cleansing Bar, with all the convenience of a squeezy tube.
The deets
Contains 0.5% Salicylic Acid, AKA beta hydroxy acid, which is a super gentle exfoliant

Kind to skin, it reduces inflammation and redness, calming stressed-out skin

Salicylic Acid unclogs pores and gently exfoliates, reducing breakouts

Citric Acid boosts exfoliation to increase cell turnover

Vegan and cruelty free (obv)

Comes in a 200ml eco-tube made from sugarcane

Designed with your skin and your bank balance in mind 
Bye bye breakouts 
One of the main causes of spots and breakouts is when pores get clogged up with excess oil and dead skin. This then leads to the growth of bacteria which shows up on our faces as spots, blackheads and whiteheads. 
Salicylic Acid is a BHA (Beta Hydroxy Acid), and it can sink down deeeep into your skin. It dissolves dead skin, and very gently breaks down some of the bonds between your skin cells. This increases cell production, meaning your skin gets through the healing and renewal process faster, and spots heal quicker. It also breaks down excess oil, so all the gunk that causes spots gets washed away by the gentle foaming formula. 
Chill out 
Redness ruining your day? Good news! Salicylic Acid is also an anti-inflammatory. This means that it reduces swelling and redness, so the signs of a breakout go away faster. Put down that concealer.
Super sensitive
Got sensitive skin? Don't worry! Unlike AHA (alpha hydroxy acids) such as glycolic, which many people find too intense for their sensitive skin, Salicylic Acid is really gentle and can even be used during pregnancy. 
Foamy friend
Our Salicylic Acid Exfoliating Gel Cleanser is gently foaming, leaving your face fresh and clean, but not feeling tight or dry. Many of us had bad experiences with foaming cleansers in the 90s and 00s - this is not the same! Our cleanser is super