Carbon Copy
Meet the Exfoliating Body Bar

By Ellie Hummerston
June 23, 2022 • 1 min read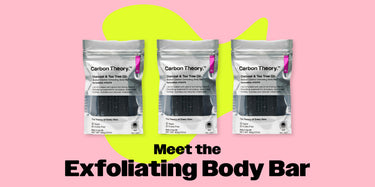 Here's the big secret.
EVERYONE gets body acne. You might not see it on their faces (thanks Photoshop), but you can bet that even the Kardashians get the odd spot on their bum.
Our Charcoal & Tea Tree Oil Breakout Control Exfoliating Body Bar is about to be your new favourite thing, whether you're plagued by butt pimples, battling back-ne or just fed up of flaky skin on your legs - we got you. The Carbon Theory Exfoliating Body Bar is dermatologically proven to remove dead skin cells and clear breakouts on the shoulders, back and body. 
The deets
Cellulose – packed with Vitamin E – naturally exfoliates the skin

Organic activated charcoal gently draws out bacteria, toxins and excess oil 

Organic tea tree oil reduces inflammation and acts as a natural antiseptic

Shea butter keeps skin nourished and hydrated without clogging the pores

Kind to skin, it reduces inflammation and redness, calming stressed-out skin

Vegan and cruelty free (obv)

Comes in a resealable packet for easy transport

Designed with your skin and your bank balance in mind 
Back-ne, chest-ne, life-ne 
A good chunk of the time the pimples that appear on your back, shoulders or bum are actually folliculitis. Folliculitis occurs when hair follicles become inflamed, often due to a trapped hair which then leads to bacterial growth. It looks like small red bumps or white-headed spots, and is especially common in areas where there's friction - yep, that's what those bumps on your inner thighs are!
The Body Bar is your solution.
Exfoliation, baby
We're not about harmful microplastics in our products, so when we exfoliate, we do it properly. The Body Bar contains natural cellulose, which exfoliates as well as being packed with Vitamin E – a powerful antioxidant. 🌊
Like butter
The dry skin type? Yep, same. But that's exactly why we packed the Carbon Theory Exfoliating Body Bar full of Shea Butter, so your skin stays nourished and hydrated. Baby soft 👶
Banish bacteria
There's a reason all the teenage skincare products that wrecked your skin smelled like tea tree - the rest of the product may have been god-awful for your skin, but tea tree, when used right, is antibacterial and helps to reduce breakouts. Just please, no harsh apricot scrubs 💀