Carbon Copy
Q&A with our Partnership Manager

By Ellie Hummerston
December 16, 2021 • 2 min read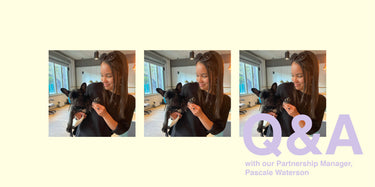 CT lifer Pascale Waterson sat down with Carbon Copy to give us all the details on her day to day, her love for Rihanna and her favourite skincare. 
What do you do at Carbon Theory?
I am the Partnerships Manager here at Carbon Theory which essentially means I look after all of the retailers Carbon Theory are stocked with around the world. My role centres around managing the relationship so that all parties are happy and that their customers know who Carbon Theory is and how great the brand is! When I first started we were only with one retailer in the UK but today we are international with some of the biggest retailers across the world, which I love and am very proud of!
What's your desert island Carbon Theory product?
I love love LOVE the mask and scrub! I feel like my skin sometimes looks a bit dull and find these products do wonders in brightening and making my skin look a bit more alive. Living in London they are both perfect in tackling congestion due to pollution. Not a problem on a dessert island but I am still taking them!
What does your current skincare routine look like?
I have quite dry and as mentioned sometimes quite dull skin so hydration is crucial for me! I use a gel cleanser which has some extra serum element like a hydrochloric acid or Vitamin C. I follow this with a serum and then again a moisturiser with Vitamin C. I use the Carbon Theory scrub a couple of times a week as I feel exfoliating really helps the products to absorb better into my skin. Ill use the Mask once a week, mostly on Sunday for a little TLC before the start of a busy week. I'm really bad at remembering to use it each day in the winter but wearing a SPF too is critical. The new one from CT is so nice as its lightweight which I love.
For my PM routine, ill use a cleanser and a more heavy moisturiser just for that extra hydration.
How did you become interested in skincare?
To be honest before I started at CT I didn't know much about skincare! Being in the role I have learnt so much about each step in the routine and how different ingredients combat different things. I find it all so interesting how we develop all the new products and the team work out what ingredients are best.
If you could have a sneak peek at anyone's skincare stash, who would it be?
Rhianna! She's amazing (everyone in the office is probably sick about how much I talk about her) and her skin is flawless. Most things about her are tbf
Who on the Carbon Theory team should we ambush for our next Carbon Copy Q&A?
Emma aka Pallet Annie