Carbon Copy
Rewind: Meet the Purifying Tonic

By Ellie Hummerston
September 13, 2022 • 1 min read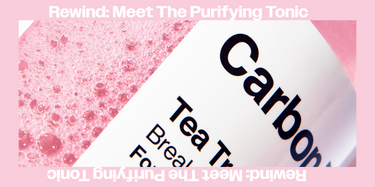 Oh hey there, welcome back to the Carbon Copy Rewind! We're rewinding the tape (does anyone remember those?) to shed some light on your favourite Carbon Theory products. 
Today, we're talking about all things Facial Purifying Tonic, and why you love it.
The deets
Organic tea tree oil cleanses the skin, kills bacteria and reduces pores

Pink grapefruit citric acid gently exfoliates, while helping to promote cell turnover and control oil

Minimises shine and prevents breakouts

Vegan and cruelty free (obv)

Designed with your skin and your bank balance in mind 
Your words, not ours
"This tonic is amazing, I've only been using it for a few days and can already notice a difference. My skin is clearer and brighter, I love that it tingles so you can feel it working but doesn't dry my skin out at all. Will definitely buy again." - Lucy S.
"I honestly am very happy with the product, it does leaps and bounds above what I initially required." - Joshua M.
"The best toner I've ever used. I use it in in perfect harmony with the cleansing bar and moisturiser. If I've ever run out and thought I can wait to reorder until my other products are low, I can see how much my skin misses it. It really is a little gem." - Jane C. 
"The tonic is the cherry on top of my skin care, it gave my face a lovely glow and really rejuvenated my skin." - Jade F.