Carbon Copy
Summer holiday skincare

By Ellie Hummerston
May 27, 2022 • 3 min read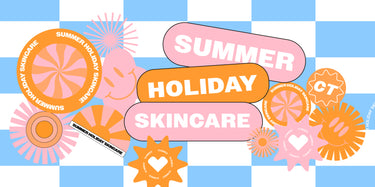 Not sure what to pack for your summer hols? Us neither, which is why we asked our mates in the Carbon Theory office for the skincare they're cramming into backpacks, suitcases and hold-alls this summer. 
Ellie - Brand Manager
I'm travelling light this summer! I'm off to Italy for a wedding, but then my fiancé and I are turning it into a two week holiday. We're in Lucca for the wedding, then heading to Naples for a city break, and finally heading to Ischia for some chilled-out island relaxation. Since we're sort of doing it all on this holiday, my skincare needs to be up to the task - and fit in my rucksack.
Glowing skin without spots is my priority for the wedding, so naturally Spot Paste will be coming with me. I'll also be testing out something ~new~ coming soon which I can't tell you about yet but I know you're going to love! The SPF50+ is going to be needed as well (ofc), and I'm going to somehow squeeze in the Carbon Theory Bi-Phase Cleansing Water and the Overnight Detox Serum. I figure I can sacrifice something else to make room for more skincare - do I really need six pairs of shoes? Yes, yes I do. 
Alice - Social and Brand Assistant
This summer I'll be off to Corfu and tend to focus my skincare routine on hydration as my skin is super dry and often worsens when it's hot. 
I like to use a cream cleanser morning and evening, but to ensure all dirt, sweat, and SPF is removed from the day, I use the Carbon Theory Bi-Phase Cleansing Water as my double cleanser in the evening. I follow my skincare routine with a hydrating serum like hyaluronic acid or snail mucin and then use a hydrating lotion. Of course in the day, I can't go without my SPF50+ for full protection from the sun, it's lightweight but leaves the skin *glowing* and does wonders for my dry skin. 
For my body, I love taking the Exfoliating Body Bar! I always find shower gels take up so much of my liquid allowance, so the bar is perfect for travelling! I just pop it back in the pouch so it's mess-free to bring back home again.
Jadene - Retail & Product Executive
This summer I'm off to Turkey! As I have sensitive skin I like to keep my routine simple.
I wash my face with an AHA body soap - this helps to break down the dead skin cells on my face and body. I use our Bi-Phase Cleansing Water as a double cleanser – just to double check that all the dirt is removed from my face. I then spray my face with a vitamin E hydrating mist - as I have quite dry skin, this refreshes, hydrates and moisturises my face. Then I use a deep moisturiser – this cream deeply moisturisers my skin leaving it smooth and gives me long lasting hydration. Lastly I use an SPF30 moisturiser
Bethany - Copywriter
For my Mum's 60th, her sole request was to go on a cruise with her closest family, so I'll be sailing up the Norwegian fjords in August! It probably isn't going to be sunbathing weather (not that I'm one for that anyway), and since we'll be doing a lot of shore activities I need skincare that will last through surfing in the cold, mountain biking and kayaking. 
On the plus side, I do get nearly unlimited baggage allowance (hah! No Ryanair restrictions for once), so I'll be bringing my whole bathroom cabinet. My dry skin LOVES the
Salicylic Acid Exfoliating Cleansing Bar
, so that's definitely making the cut, along with my beloved
SPF50+
and the
Spot Paste
- essential for tackling any inconvenient spots that will inevitably show up just before a fancy formal night.