Carbon Copy
THE BIG 1 MILLION

By Guest
October 18, 2022 • 1 min read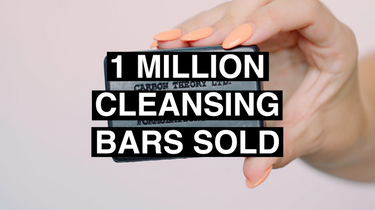 That's right, more than a million cleansing bars have helped beat acne on more than a million faces. With over 13,000 five star reviews, it's easy to read why so many of you love it.
Our founder, Phil, started Carbon Theory back in 2018, all based on the idea that there must be an easier and cheaper way to fight breakouts. Thanks to YouTube soap-making tutorials, the first Carbon Theory Facial Cleansing Bar was born in Phil's kitchen sink.
The next step (after bugging all his friends and family to try it) was to head up to Scotland, where he worked with Scottish soap-makers Soapworks to help scale up his recipe. One trial run with Boots later, Carbon Theory exploded.
In just four years, Carbon Theory has gone from being stored under a desk in London, to being stocked around the world.
We've massively expanded our range, from just one charcoal and tea tree oil cleansing bar to bars, gels, masks and even an SPF, while keeping the core values of Carbon Theory front and centre. 
We've built a community around the world, Humans of CT, that celebrates real skin, breakouts and all. 
We're vegan and cruelty free, and we believe that you shouldn't have to spend a fortune to look after your skin.
We're supporting grassroots organisations and growing talent in the UK, like community women's football team the Victoria Park Vixens and grime and rap artist JXNZAY. 
We can be found across the world, from ASOS, Boots and Superdrug in the UK to ULTA and Walgreens in the States, to Canada and the Middle East,  all the way down to Australia - we're fighting breakouts on four continents. 
Carbon Theory is for anyone and everyone. Got spots? After four years, we've (still) got your back.