Carbon Copy
Tips for reducing plastic waste with Team CT

By Ellie Hummerston
July 14, 2022 • 1 min read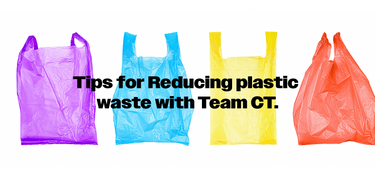 It's July, and team Carbon Theory are looking at ways to reduce our plastic consumption for Plastic Free July. While as a brand we know we know we're not perfect when it comes to plastic, but still we're striving to make changes for the better. 
Reducing our plastic waste is incredibly important for the environment (We love you David Attenborough). Our copy writer Bethany speaks through her easy ways to reduce your plastic consumption. 
Skincare 😍
Carbon Theory makes this SUPER simple - helloooo Facial Cleansing Bar
I was ready for a refill on my fave acne-busting cleanser, but I opted for a paper wrapped refill, since my original resealable travel pack is still a-okay.
Period products 🩸
Period pants have changed my life. I have so many pairs of them now and it's genuinely made such a difference to my quality of life - I'm not worried about spillages! And I have a very heavy period. You just give them a rinse at the end of the day and chuck them in the wash - so simple and no plastic! My faves are from ModiBodi and Wuka.
Shopping 🛒
Food shopping general is a minefield for single-use plastic, so I'm trying to shop carefully this month. Do my onions really need to be in a weird net bag? No, they have loose ones.
I've also started getting milk from Modern Milkman in a glass bottle instead of plastic and honestly I don't think I'll be going back - it's so much easier!