Carbon Copy
Veganuary Beauty Guide

By Ellie Hummerston
January 24, 2022 • 2 min read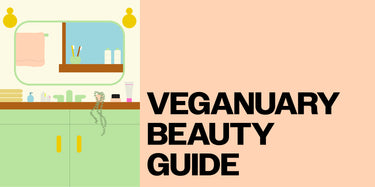 Protect your skin and our planet
For 2021, 500,000 people have signed up to go vegan for the month of January, double the number who signed up to Veganuary in 2019. And, with vegan food being more accessible (and delicious) than ever, it's no surprise!
But, you might not know that your skincare routine can be packed with animal products and by-products. Or even tested and tried on animals. Collagen and beeswax are just two of hundreds of beauty ingredients derived from animals and used in a lot of everyday skin products. You might also recognise glycerin from your products, which is actually animal fat.
So, it's a good time to remember that every single one of our products is made with vegan ingredients. And, of course, we're always cruelty-free. 
So, what do we mean by VEGAN skin care? 
When it comes to vegan products, labels can be confusing. From vegan to cruelty-free to organic, it can be tricky to understand what we mean we say vegan: 
🥦  None of our products are made with animal or animal by-products 
🥑  None of our products are tested on animals
🍑  We're completely independent, so no surprises about parent companies 
What are the benefits of going vegan with your skincare? 
Kind to animals

– all of our skincare range means that no animals were involved with the creation or testing of our products 

Better for the planet

– as our products are made with predominantly natural and renewable materials they don't harm our planet or support the meat industry for animal by-products 

Rich in vitamins

– as our ingredients are predominantly taken from plants, they're packed with natural vitamin and antioxidants, which help in repairing and protecting your skin
Ready to make the switch? Here's where to start:
When switching your skincare routine for Veganuary, it's tricky to know where to start. So, we suggest sticking to the core foundations of cleanse, tone and moisturise. 
Cleanse
Whether you prefer a facial soap or scrub, both of our charcoal packed cleansers make light work of make-up, daily grime and build-up. Prefer an oil-based cleanser? Packed with soothing Vitamin E oil to melt make-up and hemp water to hydrate. As well as Symrelief - an anti-oxidant with soothing qualities to ensure that even the most sensitive skin is left calm and refreshed.
Tone
Our Facial Purifying Tonic is a deep cleansing, pore reducing formulation that minimises shine and keeps your complexion clear. Pink grapefruit citric acid gently exfoliates, while promoting cell turnover. Leaving skin brighter, tighter and refreshed. 
Moisturise 
Our vitamin E packed Moisturiser provides protection from breakouts while keeping the skin nourished and hydrated. Cranberry extract soothes and moisturises inflamed or irritated skin, while organic tea tree oil reduces inflammation and acts as a natural antiseptic.