Carbon Copy
We've only gone and turned FOUR

By Ellie Hummerston
February 18, 2022 • 1 min read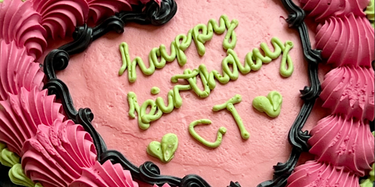 We're all emotional at Carbon Theory HQ today because we're FOUR YEARS OLD. 
And, a lot has happened in four years. 
So, let's go back to the beginning. The year? 2018. Ariana Grande was singing No Tears Left to Cry and Black Panther was flooding our screens. And, Philip (Carbon Theory's founder) took his homemade Cleansing Bar from the kitchen sink to the internet. 
After being snapped up by Boots' Beauty Finds program at 180 stores in the United Kingdom, we became the Carbon Theory you know today. By 2019, The Daily Mail called it a 'miracle' for those who experience acne and Carbon Theory began to sell out. With sales rocketing, Philip jacked in the day job and started creating a full line of products. 
By 2020, we had our core collection of toner, moisturiser and face scrub. We also started our (metaphorical) trophy case, bagging the Allure Best of Beauty Award 2020. 
Beauty editors also started taking notice of us (and your reviews). We were spotted in Vogue, Elle and Forbes. And, after we introduced our Day-Brite range in 2021, we were also awarded Best SPF from Cosmopolitan UK. 
Speaking of we introduced our Sunscreen and bestselling Bi-Phase Cleansing Water. We're also now available outside of the UK, stocking in Canada and across the USA. You can also spot us in Boots and ASOS!
While a lot has changed, plenty hasn't. We still don't retouch our photos - we're all about showing real skin (and real results). We still want to create products that bust breakouts, without harming the skin barrier. And, of course, we're still vegan and cruelty-free using sustainably sourced ingredients. 
So, what about the future? 
Well… We've got PLENTY of exciting stuff to come, so watch this space.