Carbon Copy
Who are Carbon Theory?

By Ellie Hummerston
September 01, 2021 • 1 min read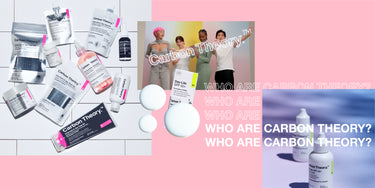 We wanted to launch a skincare brand that takes natural ingredients to create powerful results. 
Some Youtube video about making soap from home and a news article about aggressive prescription acne medicine sparked an idea. 
After a great deal of experimentation and one ruined kitchen sink, the very first Cleansing Bar was born. 
We combined charcoal for its cleansing properties, tea tree for its antiseptic qualities and shea butter to counteract dryness, and the now best-selling and award-winning Cleansing Bar was perfected. Boots took a chance on our first creation, and the rest is history. For us, it was important that the Cleansing Bar and all following products were vegan, the ingredients were locally sourced and the price point was low. 
Since the Carbon Theory launch in 2018, we've gone from one product to eleven, and there are plenty more in the pipeline. While the original Cleansing Bar will always be our fave, Carbon Theory is moving beyond, creating five star spot treatments and the next-generation SPF our customers were crying out for (literally, we had a LOT of emails).
Carbon Theory products are designed for humans, so it's humans we listen to, not data. You wanted a version of the original Carbon Theory Cleansing Bar that was great for the body as well - and we listened. We want to have honest conversations about all things skin, and help our customers to see results.
Our products are accessible and affordable, found in major pharmacies and drug stores like Boots, ULTA and Walgreens. And while no one seems to be really sure what 'Clean Beauty' really means, for us it's all about using ingredients created by nature, like charcoal, tea tree oil and shea butter.