Carbon Copy
Acne Awareness Month

By Ellie Hummerston
June 30, 2022 • 1 min read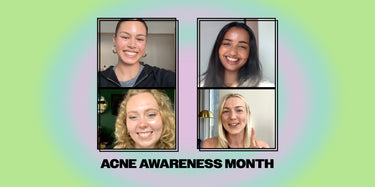 June is a big month at the Carbon Theory head office - it's Acne Awareness Month! In case you hadn't noticed, acne is kind of our thing. Yes, we're a skincare company, but we're not selling you BS - acne is super common, and while we create products to tackle it, we're also all about normalising acne, skin texture and real skin. Absolutely no filters here!
While we love shouting about the fab people that work for Carbon Theory (check out the skincare products we're taking on our hols this year!), we don't just want it to be all about us. So, for this Acne Awareness Month, we're passing you the mic. 
Here's everything we're doing in the month of June for Acne Awareness Month. 
Sharing your Skin Confidence Routines
Every week in June we'll be sharing reels from our Humans of CT series! We kicked things off with Abla of @glowyabby talking about normalising real skin.
Ella of @_myskinstory wrote a Carbon Copy blog post for us all about acne skincare routines 
@spottylittlething talks acne and confidence
On Thursday 23rd Isabella Matthews from  @spottylittlething will be going live with Carbon Theory to talk about all things acne and the impact it can have on your confidence, along with advice on how to combat it.
Carbon Clinic with @_myskinstory
For Carbon Clinic Episode 8, we chatted with Ella of @_myskinstory about acne and breakout prone skin types and how to find your perfect routine