Carbon Copy
Q&A with our Brand and Social Assistant

By Ellie Hummerston
May 16, 2022 • 2 min read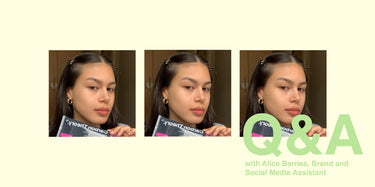 Meet Alice, not only our Brand and Social Assistant, but running her amazing skincare Instagram Skincare By Alice. We caught up with her to chat all things CT, Skincare and her holy grail products. 
What is your current daily skincare routine?
I have dry skin, so my current skincare routine is all about hydration and keeping it simple. In the morning, I cleanse using a cream cleanser, followed by a hydrating serum and a thick moisturiser. Of course, I can't finish my routine without our SPF 50+, it really does leave the skin *glowing*. 
In the evening, I like to remove any makeup with our Bi-Phase Cleansing Water, and again, use my cream cleanser as a double cleanser. I love to rotate using a Niacinamide serum, or a AHA serum 1-2 times a week, then follow with moisturiser. I will always use the Facial Wet Mask once a week, mostly on a Sunday - it's the perfect self-care buddy. 
Are there any holy grail Carbon Theory products you swear by?
I mean the SPF 50+ is literally everything you would want in an SPF. High protection? Check. Lightweight? Check. No whitecast? Check. No fragrance? Check. Leaves the skin glowing? I mean it's an added plus, but you guessed it - check. 
What do you like to do in your spare time?
I really love to chill out. Life can get so busy and chaotic so I really enjoy spending some well needed time for myself.
What made you want to join Carbon Theory?
When the opportunity arose to apply for my role - I instantly jumped! I am a big skincare enthusiast and previously worked with Carbon Theory on shoots - I always loved the chemistry the team had. It seemed so collaborative and a unique, loving, working environment where everyone wants you to prosper and do well! I really wanted to experience all aspects of branding and marketing - through social, PR, shoots, and also to work closely with people who have had years of experience in the industry - and Carbon Theory really was the perfect package. I am so grateful to be surrounded by such a talented team and it has been a pleasure to become a part of it. The role was exactly what I wanted to do and it was an even bigger bonus that it was with a skincare brand whose values I love so much.
What do you do at Carbon Theory?
I'm the Brand and Social Assistant at Carbon Theory and my role involves everything from creating content and copy for our social media channels, to supporting our Brand Manager and Social Media Manager on brand, social and PR activations.