Carbon Copy
Q&A with our Retail and Product Executive

By Ellie Hummerston
March 28, 2022 • 1 min read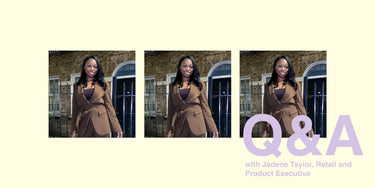 We're back for another meet the team, this week with Jadene Taylor, Carbon Theory's Retail and Product Executive. Time to talk about all things skincare and get some behind the scenes at CT. 
What do you do at Carbon Theory?
As the Retail and Product Executive, I keep track of stock replenishment deliveries for all our retailers like ULTA, Walgreens, Boots, Superdrug, Shoppers Drugmart and more.  I also help with new product development, which is renewing any existing product or introducing a new product while also giving ideas for Carbon Theory's new releases. 
What's your desert island Carbon Theory product?
Before it was Facial Cleansing Wash but now it's the Bi-Phase Cleansing Water. 
What does your current skincare routine look like?
At night I wash my face with the Carbon Theory Facial Cleansing Wash, then also use the Bi-Phase Cleansing water to double cleanse. Then my last two steps of my skincare routine are hydrating with the Overnight Detox Serum followed by moisturising with coconut oil. In the morning, I use the Cleansing Pads then moisturise with coconut oil. 
How did you become interested in skincare?
I noticed my pores were large so I was looking for products to minimise them!
If you could have a sneak peek at anyone's skincare stash, who would it be?
I would love to look at Gabrielle Union's skincare stash, I just know it's good! 
Who on the Carbon Theory team should we ambush for our next Carbon Copy Q&A?
Alice! The newest member of the CT team.