Carbon Copy
Rewind: Meet the Cleansing Bar

By Ellie Hummerston
April 21, 2022 • 1 min read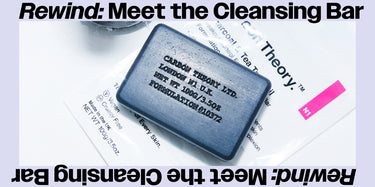 Oh hey there, welcome to the Carbon Copy Rewind! We're rewinding the tape (does anyone remember those?) to shed some light on your OG favourite Carbon Theory products. 
Obviously, we're kicking things off with our bestseller, the award-winning cult fave Facial Cleansing Bar. 
The deets
Launched in 2018

Organic activated charcoal gently draws out bacteria, toxins and excess oil 

Organic tea tree oil reduces inflammation and acts as a natural antiseptic

Shea butter keeps skin nourished and hydrated without clogging the pores

Vegan and cruelty free (obv)

Designed with your skin and your bank balance in mind 
We hate to brag but…
Beauty experts love it, and so do you! 
We won Allure's Best of Beauty Awards in 2020, and the Facial Cleansing Bar alone has over 10,000 five star reviews from people from all walks of life. 
Your words, not ours
"The cleansing bar has worked brilliantly on clearing these spots even after just a week." 
"Amazing, will never use anything else."
"I have suffered with breakouts for years!! This soap is my new best friend." 
"I've only had this a week but already I can see the difference in my skin!!" 
"I know this bar has been raved about so much on social media, but I can tell you that the hype is definitely worth it." 
"I have been using facial soaps for a couple of years now to try and cut back on plastic use. Some have been good, but all could have been better. This facial cleansing bar IS the better I was looking for."
"Can we talk about the price please? Like how have they got this price for this result? Amazing!"