Carbon Copy
Q&A with our Brand Manager

By Ellie Hummerston
November 08, 2021 • 1 min read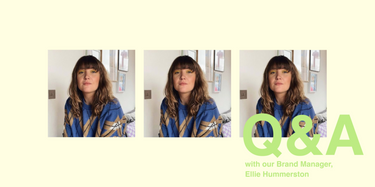 Ever wanted to know more about who's really behind Carbon Theory? Carbon Copy sat down with Ellie Hummerston, Carbon Theory's Brand Manager, to talk about all things skincare, Dolly Parton and her day to day. 
What do you do at Carbon Theory?
I'm the Brand Manager here at Carbon Theory, while it's making sure everything you see fits in the Carbon Theory world and doesn't feel out of place it can be a bit of everything. From producing shoots, to updating our website and working on all our new product launches. I love seeing our products come to life and nothing beats the energy of a shoot day. 
What's your desert island Carbon Theory product?
I couldn't live without the Cleansing Bar, it's our OG product and also my favourite. I've always had hormonal acne and it really helps key my breakouts at bay. 
What does your current skincare routine look like?
I have combination skin, really oily T-zone so I currently my AM routine with the Cleansing Bar, followed by a hyaluronic acid to really lock in the moisture. I massage my serums in with a gua sha, to really give myself a selfcare moment followed by a rich moisturiser and of course finished with our Day-Lite SPF 50+. 
For my PM routine, I start with a gel cleanser to remove any makeup, then follow with a new product we have in the pipeline for CT, sorry for the secrets but coming very soon! Then I'll go in with a retinol eye cream, followed by our Overnight Detox Serum to really lock the moisture in and depending on my breakouts our Spot Paste. 
How did you become interested in skincare?
When I was younger I always loved going round Boots, looking at all the skincare, makeup and buying new things to try. My mum and dad used to call it my "lotions and potions" as I would always be trying something new and had drawers full of skincare. 
If you could have a sneak peek at anyone's skincare stash, who would it be?
Dolly Parton. I want to know everything about her, including her favourite skincare, maybe I could also convert her to use CT. 
Who on the Carbon Theory team should we ambush for our next Carbon Copy Q&A?
Emma! Owner of our office dog, Jean Claude and an overall good time.