Carbon Copy
What your favourite product says about you 👀

By Ellie Hummerston
December 16, 2021 • 1 min read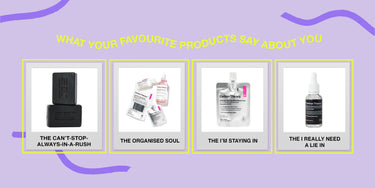 Discover our TOTALLY scientific* test 
THE CAN'T-STOP-ALWAYS-IN-A-RUSH
You're the on to go type. We're talking bus, club, 'nother club, 'nother club, plane, next place. No sleep. No fear. Pals rely on you for your charismatic conversation and personality. You're a natural multi-tasker, so it makes sense that you'd cleanse and hydrate while showering. 
THE I'M STAYING IN 
Did someone say Netflix and chill? Not that kind. You're the snuggle on the sofa, wrapped in a giant fluffy blanket sorta soul. The perfect host, you're a homebody through and through. So, engaging in a bit of me-time (read: face mask and messy bun) is your sort of Saturday night. 
THE ORGANISED SOUL 
Ten step skincare routine? HA. You were doing that before it was cool. You know how to look after yourself AND everyone else. You're the group planner and agony aunt, ready to dish out the advice when needed. So, OF COURSE you have the perfect skincare routine. 
THE I REALLY NEED A LIE IN
Pal needs a hand? You're there. Working late? Got it covered. The candle isn't just burning at both ends with you, you're the 'I don't need a break, I got this sort'. Which means you probably need a bit of TLC. Give yourself a break and slather on our overnight detox serum for a much needed bit of rest.