Carbon Copy
Your Valentine's Day Menu ❤️

By Ellie Hummerston
February 14, 2022 • 1 min read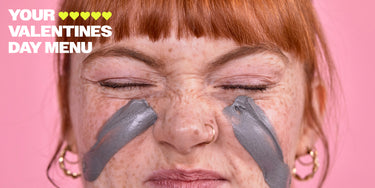 Me Time
YEAH, YOU DO. This Valentine's Day, pick yourself up one of our Mineral Mud Masks. Packed with minerals that will leave you glowing, while shrinking breakouts and redness. 
PAIR WITH: your favourite box-set and pyjamas. 
Sleep Set
Set yourself up for the perfect bedtime routine with our wind-down acne skin care box set. Everything you need for healthy, glowing skin. 
PAIR WITH: clean sheets and a good book
A Walk In Nature
Daily walks are life, not just for lockdown. Get back to the outdoors with our daily Sunscreen. With Factor 50 to protect you from all elements of the sun, you can stroll stress-free.
PAIR WITH: hot chocolate and a podcast.